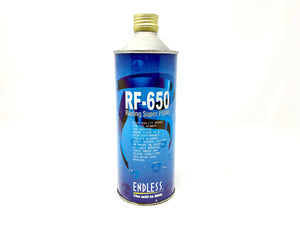 ENDLESS RACING SUPER BRAKE FLUID RF-650
The Endless RF-650 brake fluid is used in Formula 1, WRC and Dakar Rally, yet is still available for the end-user desiring the highest performing brake fluid. RF-650 works as good in a street car as it does in a F1 car. Within the circuit stages where the braking temperatures reach extremely high heat situations not encountered on the street, very stable performance characteristics can be achieved. Thanks to the even viscosity in our fluid the response in the brake system is very fast and precise regardless of the temperature. The low freezing point (-40 ºC) also makes RF-650 perfect for snow rallys. RF-650 is becoming recognized as the highest-spec brake fluid around the world.
EXTREMELY RELIABLE BRAKE FLUID FOR ALL APPLICATIONS
RF-650 is remarkable in its specifications on paper, and has proven to be so on the track and street as well. Even though RF-650 is marketed as a race brake fluid it can be used in all types of vehicles. Whether you drive a Formula One car or a road-going vehicle, RF-650 will give you amazing reliability and feel.
Specification:
Dry Boiling Point: 328 Degrees C (622 degrees F)
Wet Boiling Point: 218 Degrees C (424 degrees F)
Supplied in 500ml bottles.
*Note: This fluid cannot be mixed with DOT3,4,4.1, 5 and 5.1. System must be drained of all existing fluid.
*Shipping via DHL Only. Select this option during shipping selection.